Pats '07 Preview and Picks
Turmoil amid new faces. New faces amid turmoil. The 2007 New England Patriots.
For the last week that palindromic diagnosis of the three-time ex-champs has been eaten up and regurgitated by much of the nation's sports, news and entertainment media. The fodder has been abundant: Randy Moss just began practicing; Richard Seymour was just placed on the PUP (Physically Unable to Perform) list; Rodney Harrison was just flagged and
suspended for using HGH (Human Growth Hormone). And Tom Brady just had a child out of wedlock.
Caught up yet? I know what you're thinking. The only way you couldn't be caught up with the recent goings on of the Pats is if you fail to acknowledge the existence of ESPN, Sports Illustrated, People, the New York Times, CNN, and of course, TMZ.com. (Check out the piranhas at work on Brady's tail). So in the interest of preventing further regurgitation, pay attention to the following, fully-integrated, piece by piece, Patriots preview.
Randy Moss Since his arrival Moss has been a model Patriot. Okay, he barely made an appearance in training camp (although regulated his competition during his brief stint), and sat out the entire preseason. In total, a pulled hamstring afforded him a nice month-long rest with which to prepare for his first year in red, white and blue. So, given that we've barely seen or heard from Moss, how then could he possibly constitute a model Patriot? Because, well, we've barely seen or heard from Randy Moss. He's spoken to the media, but when he's done so it was if he was eerily channeling his coach and quarterback. Far cry from the verbal loose cannon that inhabited Minnesota and Oakland. He's also had no brushes with the law; no funky smells seeping through the tinted windows of his Escalade. So you see? He's been a perfect superstar, and has been given his due leeway from the masters of player management running the organization. So far it looks like the "meet you halfway" agreement between Belichick/Brady and Moss has worked out pretty well.
Richard Seymour There is no disputing that Seymour is the second best player on the Patriots, and probably the most skilled and versatile defensive lineman in the NFL. When you play six seasons in the league, notch five Pro Bowls and win three rings, "the best" is generally the category you fall into. That's a Hall of Fame resume in less than half of a career. Because Seymour is only now entering his "prime", and also happens to be recovering from offseason knee surgery, it is wise to sideline him now. While six games may mathematically represent nearly 40% of the season, I believe it is the Patriot-platitude that states: it's not how you start, it's how you finish. In the case of Seymour, he need not play the first six games, because the only bearing those games will have is on where the Pats stand in terms of the home-field advantage picture in the AFC. Trust me, that picture doesn't even start to come into viable focus until week 10. Seymour now has the opportunity to extend his training/rehab camp into October and return when he's comfortable on that knee.
Rodney Harrison Before all the preposterous comparisons to Barry Bonds start flying, let's get something straight: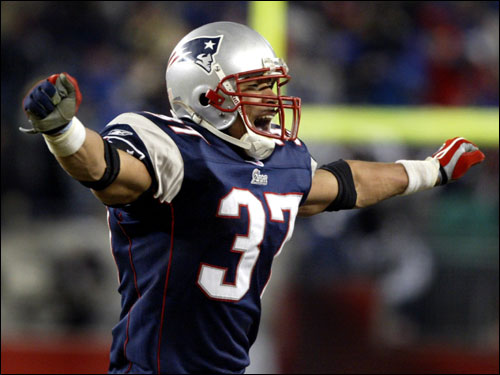 Rodney Harrison was not using HGH with devious intentions. In other words, as opposed to Bonds, he's not a cheater. Of course this is a matter of opinion, and since he did break the law, you have every right to label him a cheater. But I believe him when he says he was using HGH to try and recover faster from a shoulder injury and ligament tears in his knee. The guy has been both an iron man and an enforcer throughout his career (before the 2005-06 seasons he had only one injury-marred campaign in his 11-years as a professional). But that's also a double-edged sword. Because Harrison has maintained the reputation as one of the most fearsome and dirty players in the league, once the injuries started coming, opposing teams (see: 2006 Tennessee Titans) started turning the tables on the Pats safety. Loosely interpreted as a "put him out when he's down" policy, it's clear that there's been no love lost between the recently-ailing Harrison and his (literally) sore competitors throughout the league. Judging from the forthcoming and sincere way in which he's dealt with this situation (as opposed to his MLB counterpart, Gary Matthews), and the fact that it doesn't look like prosecutors are going to charge him, I say let him serve his suspension (four games) and forget about it.
Tom Brady Wow, how times have changed. It wasn't even six years ago that Brady unbelievably found himself standing smack in the middle of the football universe, hoisting the Lombardi trophy and Super Bowl MVP, ecstatic and stupefied, hands on his cheeks, staring wide-eyed at Drew Bledsoe, like the little boy who had just been told he received a lifetime pass to Disney World. Five seasons and two titles later, the kid who brought a legacy to New England has helped bring a boatload of drama to Hollywood and the fashion world. After his long relationship with actress Bridget Moynahan ended in the middle of last season, and before he started dating supermodel Gisele Bundchen, Brady learned he was going to become a father. Fast forward to the week before last, when Moynahan had Brady's son, while Tom was balancing the Patriots preseason regimen in Foxborough, with Gisele in New York and the mother of his child in Los Angeles. Quite precarious, considering by nature, such balancing acts traditionally involve stabilizing two entities, one on each side of the center. Unfortunately, even for the mega-man, the laws of gravity still apply. Three's still a crowd last time I checked. Crazy as it may sound, the time for parting with the hottest woman in the world may soon be upon Tom.
Prediction As we have already (many times over) established, the Patriots are dealing with more than a handful of issues, the reverberations of which are being felt from Boston to Hollywood; from New York to Milan. Just a tiny deviation
from the crew of unknowns that chose to be introduced as a team before Super Bowl XXXVI in New Orleans. Like the Red Sox, the Patriots no longer fall within the greater classification of "little guys". To the absolute contrary, they are the giants. They remain the hunted, even if they haven't hung a banner in two years. So how are they planning to navigate through the trenches of overblown injuries, overstated sanctions and glamorous personal and familial affairs? I'll tell you why. Because the one person who can truly and earnestly say that the CNNs, ESPNs and TMZs mean squat; the one guy who can operate blissfully oblivious to the outside world; the one coach who can stand at the podium and address everything without divulging anything, well he happens to be the man in charge of the 2007 New England Patriots. For years Bill Belichick has been using his unparalleled knowledge and esoteric schemes to win football games. He's done it with fringe talent; he's done it with stars. He's done it with fringe talent turned into stars. This year he has the nucleus. It may not be intact today, but if Belichick will tell you anything it's that the road to a Super Bowl is a voyage. The beginning may be rocky, but it's not about where you begin. For the 2007 New England Patriots, the road will end in Phoenix, and a dynasty will be reborn.
Picks
AFC East: Patriots
AFC North: Ravens
AFC South: Colts
AFC West: Chargers
AFC Wild Cards: Bengals and Jets
NFC East: Eagles
NFC North: Bears
NFC South: Saints
NFC West: Seahawks
NFC Wild Cards: Panthers and Giants
AFC Championship: Patriots over Ravens
NFC Championship: Saints over Bears
Super Bowl XLII: Patriots over Saints