Five Red Sox Topics to Discuss
Spring Training has barely gotten under way for the world champs in Fort Myers and there are already many questions coming to the forefront. Among them…
Coco vs. Ellsbury?
Jacoby Ellsbury will be patrolling the Fenway triangle for the next ten years. You can take that to the bank. If the Sox
brass ultimately wouldn't package him for Johan Santana, he's not going anywhere for a long time. The question now becomes what to do with Coco Crisp. For a guy who inspired very little confidence at the plate last year, Crisp was nothing short of mesmerizing as the Red Sox center fielder in 2007. The catch he made to formally clinch the pennant and ease an otherwise rough ALCS was a fitting summation of his '07 season: almost nothing offensively but a savior in center. Ideally for Coco and the Red Sox, both he and Ellsbury start hot this spring. That will enable Ellsbury to ensure Terry Francona and Theo Epstein that he is ready to be the man at the top of the order (as if hitting .353 down the stretch and .438 in the World Series without even qualifying as a rookie wasn't enough). Coco will be able to earn the starting job he wants (and deserves). And Theo will be in good selling position. Dealing Coco and a mid-level prospect of his choice would probably be enough to get a number two or three starter (Joe Blanton?) in return.
Extension for Francona?
He took over for a guy who had made the most egregious managerial blunder in Red Sox history. He arrived in a historically wounded baseball city that was at the time stuck in a collective coma. He entered a baseball atmosphere where he wasn't being counted on to win, he wasn't expected to win, he absolutely, positively had to win. The livelihood of a Nation was at stake. And he did it. He managed the first team to ever climb out of an 0-3 hole. He led the first group of world champion Red Sox in 86 years. Then he did it all over again two seasons later. Tito will get his extension and it will be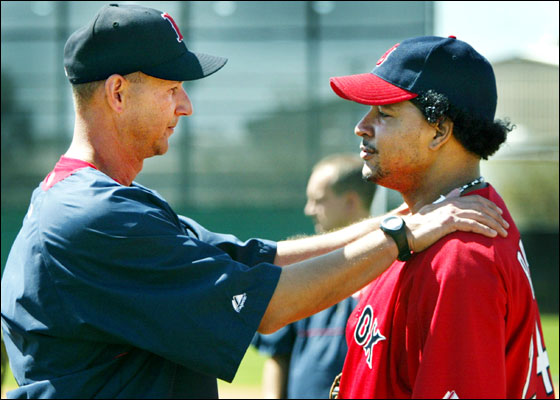 a significant pay raise from the $1.65 million he was paid in 2007. Theo and the Trio know it's a small price to pay to the man who has struck the right notes with his players and delivered the goods.
Manny being Manny?
Manny was the first to admit that he wasn't Manny all last season. However, he figured things out in the playoffs. He hasn't forgotten about his very ordinary '07 regular season though, which broke a streak of nine-consecutive 30+ home run/100+ RBI campaigns. In response to the first average season of his career, he changed his offseason workout regimen, opting to train at the Athletes Performance Institute in Arizona. He reported for spring training on time (no sideshows or car shows). And when he volunteered his time to reporters in Fort Myers, he professed his love for Boston and desire to end his career as a Red Sox. Is it a coincidence that Manny's eight-year, $160 million contract expires after this season? Or that he has two exercisable option years at $20 million a pop? Is anything a coincidence with Manny? He said he would gladly trade his stats from last year for the ring he won, but don't interpret that as his being content with a sub par output in 2007. As for 2008? "I'm just gonna go play the game, man," he said. "Whatever happens, happens." That's probably as close to a verbal forewarning as we'll ever receive from Manuel.
Will Dice-K turn it up?
This time last year was Dice-mania. All of the focus was on catering to Dice-K and trying to do everything possible to make a monumental transition manageable. All and all the cultural adjustment was ameliorated by the dogged efforts of the Red Sox front office. They brought in specialized trainers, translators and chefs for Dice-K. They expanded the clubhouse to accommodate the Japanese beat writer contingent. John Farrell, the Red Sox pitching coach, studied Japanese. Jason Varitek put in countless hours getting to know the tendencies and intricacies of his new battery mate. And that's only
scratching the surface. Dice-K's first season in America ended up reflecting that period of adjustment. He showed an ability to overwhelm MLB hitters with his array of stuff and biting fastball. But his control was a major issue and prevented him from consistently going deep into ballgames. Too often his inability to find the strike zone forced him to go away from his secondary pitches. This year he will have the chance to concentrate more on working with Varitek and less on assimilating to daily life half a world away from his home.
Drew year two?
Two things are certain. 1) J.D. Drew grossly underachieved in his first year as a Red Sox; he was a $14 million mess for five months, and 2) He made up for it all with a single swing of the bat. There is no player in my lifetime who endured more scrutiny only to end up being heralded as a hero. Until J.D. Drew. So what should we expect in his second season? More of the Drew we saw last September and October. It's apparent he had difficulty making the transition to the most critical sports town in the country. He also dealt with an illness to his son throughout the '07 season. But he came through when it mattered and he has that, in addition to the worst possible first year in a Sox uniform, under his belt. If he can avoid significant injury, expect a nice bounce-back year in 2008 for the guy who struck the $14 million grand slam.