MLB Points: Opening Day '08
If you watched baseball on Opening Day 2008–or caught Baseball Tonight or looked at the day's box scores for that matter–one thing stuck out above all else: bullpen implosions. Out of 12 games, five involved bullpens blowing leads. In four of those contests, one or both offenses put up crooked numbers on opposing relievers in the late innings. Sure, it was the first day of the season and weird stuff tends to happen. Lest we forget, baseball is a sport of odd routines woven into a complex methodology.
So yeah, on day one of 162, lot's can go wrong, and a fair amount usually does.
However, the failure of many arms late in Monday's games was more than just a 5 a.m. wakeup call to teams only marginally sweating their bullpen situations — it was the earliest possible indicator of a bigger problem that has spread throughout the league.
Relief pitching has become a dying
breed.
There are a handful of dominant closers along with an assortment of overpowering setup men in the game today, but nowhere near enough productive arms to consistently record the final six to 12 outs of ballgames.
After the first full slate of '08, that issue couldn't have been any more evident.
Detroit lost to Kansas City because its bullpen failed to prevent Justin Verlander's inherited runners from scoring in the sixth inning. Then Denny Bautista gave up the winning run in the 11th. The White Sox endured three eighth-inning runs when Octavio Dotel couldn't hold down a tie game in Cleveland. The Brewers and Pirates watched leads of three and five, respectively, washed away in the ninth inning before rebounding to win in extra innings. And the Phillies saw something of a return to normalcy — a tie game entering the final frame turned into a five-run deficit and a loss when Tom Gordon could barely record an out.
This is a theme that is going to be revisited this year more frequently than any manager –real or fantasy–is comfortable with.
Speaking of fantasy, let's throw the fantasy spotlight on three important names who played decisive roles on Opening Day.
Fantasy Spotlight No. 1 – Tom Gordon Flash was nothing short of awful on Opening Day. Sent in to preserve a 6-6 tie against Washington, Gordon gave up five runs in one-third of an inning. He may be old (40) but he's still owned in 60% of ESPN fantasy leagues. More importantly, he's not just being counted on to fill in for Brad Lidge until Lidge gets healthy (which should be sometime in the next week or two).
He's also going to have to be the guy to close games on an interim basis if and when Lidge starts again losing the mental battle that has plagued him since "the Pujols blast" of October 2005. If Gordon can't answer the call, the Phillies will have no choice but to return Brett Myers to a closing role. Judging from Gordon's opening act of '08, the Phils better hope Lidge can keep it together. The bottom line for fantasy owners is Lidge still has great stuff. Gordon does not.
Fantasy Spotlight No. 2 – Eric Gagne How the mighty have fallen. Gagne may have a ring as a result of his service in Boston last year, but it seems to have come at the cost of his mojo. He was so bad in a Red Sox uniform that Terry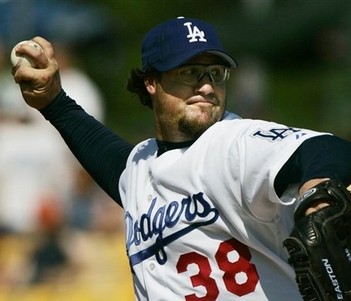 Francona used him only in mop up situations last October. In his first appearance since receiving an utterly ludicrous $10 million deal from Milwaukee, Gagne picked up right where he left off in Beantown. Entrusted with a three-run lead in the ninth, he promptly gave up a hit, a walk and a game-tying homer to a rookie (Kosuke Fukudome) playing his first game in the US.
The only thing about Gagne that has been more discouraging than his performance is his body language. He hasn't looked like he's had any confidence in himself since last July when he was still a member of the Texas Rangers. This is a major concern for the Brewers as well as for all those fantasy owners who are counting on 25+ saves from Gagne.
Fantasy Spotlight No. 3 – Kosuke Fukudome If we're going to talk about Gagne, Fukudome can't be left out of the conversation. The guy crossed the globe, came to an organization that happens to be entering its 100th season without a championship, and in his first big league game went 3-for-3 with a game-tying home run in the bottom of the ninth. Forget justifying his potential with comparisons to the Ichiros and Matsuis of the world. I'm already sold.
Of course he's not going to do that everyday, and will surely go through some understandable transitional struggles, but the makeup is clearly there. Like his countrymen, Fukudome is a professional. You don't need more than a tiny sample size to see that the latest hacking Japanese import possesses a distinct stoicism. That in itself should do wonders for the most losing franchise in American sports.