MLB Playoff Preview '08
Where would the Dodgers be without Manny Ramirez? Where would the Brewers be if they weren't able to snag CC Sabathia? Would the Angels be 100-game winners with no Mark Teixeira?
And the survey says: 1) Below .500 in second place, 2) On the outside looking in at the Mets, 3) Probably not.
Indeed, if there's a theme to this postseason, it's those new faces in new places giving newfound hope to a trio of frustrated franchises.
But hold on, the Dodgers, Brewers and Angels aren't the only clubs chasing realistic dreams of October glory.
With that in mind, let's investigate each of the contenders.
Philadelphia Phillies (92-70, NL East Champions)
Case for an early exit The Phillies aren't exactly, for lack of a better term, clutch. They took the NL East for the first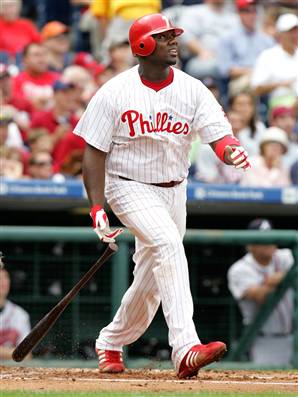 time since 1993 last year — mainly by playing second fiddle to the Mets and their mammoth collapse — then went three and out against the Rockies in the first round. The 2008 Phillies are basically the same team with basically the same record that felt no pressure down the stretch as the Mets once again faded. And they are expected to win a short series against a squad throwing CC Sabathia twice?
Case for a deep run The three things you need to win a title — an ace, a basher and a closer — the Phillies have. Cole Hamels is as nasty as they come, Ryan Howard and Chase Utley are tough outs that become even tougher in the playoffs, and Brad Lidge converted all 41 of his save chances this year. The formula is there.
Verdict Out in 4 against the Brewers. Because Sabathia threw the last game of the regular season, Hamels won't be facing him in Game 1. This puts an excess of pressure on the Phils to take the first game. And even if they do they're likely looking at a split going back to raucous Milwaukee.
Los Angeles Dodgers (84-78, NL West Champions)
Case for an early exit An inability to score runs. The Dodgers Achilles heel the last few years has been just that. Of course sticking Manny Ramirez in the middle of that lineup has paid enormous dividends, but the fact remains that LA scored 155 fewer runs than the Cubs this year, and even with Manny they can't match the depth of Chicago's lineup.
Case for a deep run The ex-Sox factor. That would be Manny and Derek Lowe. If Manny continues to smash the ball and Lowe (3.34 ERA in 18 postseason appearances) shows off his abnormally large set of stones, sky's the limit for this team. Jonathan Broxton and Takashi Saito at the end of games is a dynamic combo.
Verdict Out in 5 vs. the Cubs. Just a tough draw for the Dodgers. If the Mets don't fritter away another sure
playoff berth, Manny and company are headed to Philly for a much easier series. I see them splitting the first two at Wrigley before returning to Chavez Ravine for a tussle with Rich Harden. He's not the face you want to see in a swing game, no matter what the venue.
Los Angeles Angels (100-62, AL West Champions)
Case for an early exit History. The Angels simply can't deal with the Red Sox in October. Dating back to 1986 they've dropped nine straight to Boston in the playoffs. Their two biggest weapons, John Lackey and Francisco Rodriguez, have been tormented by the Sox in the postseason.
Case for a deep run F— history. Lackey was 2-0 with a 2.81 ERA and .132 BAA vs. Boston this year. They took eight of nine from the Sawx in the regular season. They are a far healthier team than they were last season going into the games that count. And Mark Teixeira completely changes the tenor of that lineup.
Verdict Done in 4 vs. the Red Sox. I'm just not convinced the Angels hurlers can shut down whatever lineup Boston trots out. As good as he was against the Sox this year, Lackey was putrid down the stretch (8.14 ERA and .356 BAA in four September starts). Ervin Santana and Joe Saunders simply don't instill fear and the Angels bullpen — always one of their strengths — does not cope well with the patient Boston hitters.
Milwaukee Brewers (90-72, NL Wild Card Champions)
Case for an early exit Inexperience. We all saw what happened when the young Brewers got into a pennant race with the Cubs last year. They found that extra finishing gear this time around but that doesn't change the fact they haven't been
to the dance since 1982. Not to mention succeeding in October requires a shift into overdrive. Is the Brew Crew going to be able to harness all that expectation and emotion?
Case for a deep run Let's say it together: CC Sabathia. Talk about a man with purpose. In case you missed his body of work last year (AL Cy Young winner, 15 earned runs in 15 1/3 innings in the playoffs), Sabathia has something to prove. As fantastic as he's been since joining the Brewers, he isn't getting that desired $200 million payday unless he alters the perception about his ability to carry over regular season dominance into October.
Verdict Beaten by the Cubs in 5 in the NLCS. Sabathia will single-handedly carry them into contention for a pennant. Their lineup should be able to pack enough punch to match the mighty Cubs. Two glaring reasons why they can't compete with Chicago in a long series: 1) Ben Sheets has already proclaimed he has a "broke arm". 2) The back end of the Brewers bullpen isn't strong enough to make up for the loss of the staff's second-most important arm.
Boston Red Sox (95-67, AL Wild Card Champions)
Case for an early exit Josh Beckett's oblique strain. He's already been pushed back to Game 3 of ALDS, and that's tentative. Oblique strains are by nature nettlesome. They are known to hang around, and in the blink-of-an-eye postseason tournament that is October baseball, Beckett's is of grave concern to the Red Sox. Oh and have I mentioned the
team paid $7 million to dispose of its best hitter? Oh that's right, I did.
Case for a deep run Pitching. Specifically Beckett getting healthy and joining Dice-K and Jon Lester to form the best starting trio in the American League. All have won at least one World Series game. Beckett (6-2, 1.73 ERA in nine postseason starts) is one of the greatest October fireballers the sport has ever seen. And don't forget about Jonathan Papelbon. He's never allowed a run in the playoffs. You read that correctly.
Verdict Beaten by the Rays in 7 in the ALCS. One game swung my feelings about this team. September 9 at Fenway. First place at stake. The Red Sox entered the ninth with a 4-3 lead and Papelbon gave it up. Instead of leapfrogging Tampa Bay and probably cruising to the division title, that was the closest Boston got. And that contest wasn't the anomaly; it merely underscored what became the norm this year: the Rays coming from behind and stealing games from the Red Sox. What that game did determine, however, was home field advantage for this series. The Rays (57-24) were the best home team in baseball, while the Red Sox, as always, were a different team (39-42) away from Fenway Park.
Tampa Bay Rays (97-65, AL East Champions)
Case for an early exit The pressure that goes with traversing uncharted territory. We're talking about a team that had never even finished second to last before shocking the world this year. Will the pressure finally catch up to the wildly talented, yet very young and inexperienced Rays? I'm as eager as any to find out.
Case for a deep run Home field throughout the playoffs. As mentioned above, no team was better than the Rays within the confines of their own ballpark. Throw in the fast turf that is ideally suited for the Rays, the circus rules that define Tropicana Field (catwalks are in play!), and the team's one hardened veteran (Troy Percival) being the guy that will have the ball when nail-biters are on the line, and these upstarts formerly tabbed as Devil Dogs are going to be tough to take down.
Verdict A Game 7 loss to the Cubs in the World Series. (Did I really just write that?)
Chicago Cubs (97-64, NL Central Champions)
Case for an early exit 1910, 1929, 1945, 1998, 2003, 100 years, the Billy Goat, Steve Bartman and quite a bit else that I'm likely missing.
Case for a deep run Rich Harden, Ryan Dempster, Carlos Zambrano, Ted Lilly, Derrek Lee, Alfonso Soriano, Aramis Ramirez, Kerry Wood, Carlos Marmol, Jeff Samardzija and Sweet Lou Piniella.
Verdict The stock market rights itself, pigs fly, the Red Sea parts again, Paris Hilton does gratis club appearances … and … CUBS WIN!! CUBS WIN!!!! CUBS WIN!!!!!!