NFL Divisional Preview
A few leftover thoughts from wild-card weekend…
It seems many were underwhelmed with Philadelphia's win in Minnesota, citing Donovan McNabb's turnovers and Andy Reid's play calling. Fact is the Eagles registered a 12-point win on the road in the playoffs and McNabb consistently moved the ball even though the Vikings run defense stifled Brian Westbrook all day. If the Eagles defense — which was championship-caliber in the second half — could have gotten off the field on third downs early in the game the final score would've been even more lopsided.
Can the Falcons' final scoring drive against Arizona officially be renamed Matty Ice's Drive For The Over? I fear a few folks in Vegas have already beaten me to the punch on that one.
With their 23-17 overtime win over the Colts, the Chargers joined the Patriots as the only team to down Peyton Manning twice in the playoffs. It's no secret that San Diego has taken a page from New England's 2003-04 defensive schematic. By masking coverages and blitz packages through constant movement and interchanging parts at the line of scrimmage, the Chargers have been able to flummox Manning to the degree that he loses his rhythm and starts making mistakes. That's why they've had success against Indy.
Speaking of the Chargers, Mike Scifres quite literally kicked them into the second round. Hands down the most remarkable punting performance this decade.
One more San Diego note: It's unfortunate that LaDainian Tomlinson has been hurt the last two postseasons, but each shot of him in pads on the sidelines, scowling while his team guts out playoff games, further damages his legacy. The fact that the Chargers have won three of their last four in January (only losing to the 17-0 Patriots) only makes it worse. I've always liked LT and it's tough watching his career take this kind of turn.
The Ravens defense is frightening. And this freakin' man is downright terrifying.
Finally, how the hell did Matt Millen ever get hired to join NBC's in-studio team last Saturday? Was there a sign hanging outside the Rainbow Room that read: "Seeking: Football Analyst. GM of any Worst Team Ever preferred."? Did Dick Ebersol lose a bet to Bob Costas? Is the federal unemployment office situated at 32 Rock? I demand an explanation for this. On a related note, Millen REALLY liked the Falcons.
Onto divisional weekend we go.
(4) San Diego Chargers at (2) Pittsburgh Steelers
What a difference a win in January can make. This time last week the Chargers were a fraud, in the playoffs because of Denver's collapse, not their own strong finish. How perceptions can change after beating a Peyton Manning-led team that hadn't lost since October. Suddenly the Chargers are a chic pick to pull the upset this weekend against the Steelers. They played Pittsburgh tooth and nail at Heinz Field just seven weeks ago, losing a baseball slugfest, 11-10. It was cold and snowy that day and the warm weather Bolts were game.
The circumstances are different this time around. If the Chargers are to have any hope of opening up their passing game it's imperative that they get something from their ground attack. Even in a perfect world that's already the tallest of orders against Pittsburgh's second-ranked run defense.
San Diego's running back situation is far from perfect. It doesn't look like LaDainian Tomlinson will be able to contribute much, if anything at all. He's calling his groin injury the worst of his career. Darren Sproles compiled a mind-blowing 328 all-purpose yards last week on 34 touches (22 carries, five receptions, four kickoff returns, three punt returns) after averaging about 10 touches a game throughout the season. His 5-foot-6 frame cannot withstand another heavy workload, particularly against one of the hardest hitting defenses in the league. Michael Bennett, who took his first four carries as a Charger last week, becomes a factor back, which is not good news for San Diego.
Stopping the run will also be an issue for the Chargers. They smothered Indy's rushing attack last weekend, but that was no great feat considering the Colts ranked second-to-last in the NFL at 79.6 yards per game during the regular season. Willie Parker and Mewelde Moore will be on fresh legs and should pose problems for San Diego's defense. The Steelers will take control of the line of scrimmage early on and grind out the victory against an exhausted Chargers team that has already been playing playoff football for a month.
Steelers 19 Chargers 13
(6) Baltimore Ravens at (1) Tennessee Titans
The last time these teams met in the playoffs was January, 2004. In that game two old divisional rivals waged one of the most physical, skull crunching wars you'd ever want to see. The Titans won 20-17. Fast forward to Week 5 this year, when Tennessee came from behind late and beat the Ravens 13-10 in another intense and grueling affair. This bout will pit the league's number two defense (Baltimore) against Tennessee's seventh-ranked unit.
The Ravens and Titans are mirror images of one another. Both rely on run-heavy offenses (Baltimore was fourth in the NFL at 148.5 yards a game on the ground while Tennessee checked in at seventh, averaging 137.4 yards), quarterbacks
that manage the game and minimize mistakes (Kerry Collins threw only seven interceptions all year; Joe Flacco tossed 12), and defenses that live for winning time.
These squads are even on paper but the edge must go to Baltimore in this one. Tennessee's defense is elite but has major question marks. Among them: 1) How will Albert Haynesworth and Kyle Vanden Bosch respond after being sidelined since December 7 with hamstring and groin injuries? 2) Will the Titan defenders — specifically Cortland Finnegan — be able to harness the emotion of a high octane game and avoid costly penalties? 3) Can Kerry Collins avoid a repeat of his performance from Week 5, when he was intercepted twice by a pressuring and ball-hawking Ravens D?
There are simply no concerns for the Ravens defense, which is fresh off undressing a Dolphins offense that had tied an NFL record for fewest turnovers (13) in a 16-game season. Baltimore's fast, ferocious and playmaking defense forced the Fins into five giveaways. Ed Reed, who picked Chad Pennington twice, has reinvented the strong safety position over the last seven games, totaling 10 interceptions and two touchdowns.
The Ravens don't give up more than three long drives in any game and they make it nearly impossible to get into the end zone from short yardage. Flacco exhibited he can take care of the ball in a hostile environment in January. Tennessee is clearly the team with the most to prove, given its 3-3 finish after a 10-0 start. Baltimore will jump out to a slim lead by the second quarter and protect it for the remainder of the game. Collins will make a costly mistake that ices it and sends Baltimore back to the AFC Championship Game for the first time since its Super Bowl season of 2000.
Ravens 16 Titans 13
(4) Arizona Cardinals at (2) Carolina Panthers
Like every other divisional game this weekend, Cardinals-Panthers is a rematch from earlier in the year. Carolina took the first one, 27-23, in a contest that unofficially marked the coming out party for DeAngelo Williams. He rushed for 108 yards and a touchdown on 17 carries, the first of four consecutive 100-yard performances that rocketed him into the discussion of best back in the NFL. Arizona's run defense was middle of the pack this year and will no doubt have difficulty containing Williams and his backfield mate, Jonathan Stewart. The two combined for 28 touchdowns in the regular season.
The Panthers defense is a pressuring unit, led by Julius Peppers (14.5 sacks). Kurt Warner is not adept at dealing with strong pass rushes, and if Arizona is going to keep pace with Carolina it must be through the air. Anquan Boldin has an injured hamstring, which he aggravated on his touchdown catch against Atlanta in the wild-card game. Warner needs his full arsenal as well as consistent pass protection. Otherwise he risks turning the ball over in bunches.
The fact that Carolina was the league's only undefeated team at home this year makes this game fairly easy to call. Other than the Bears (who lost 20-17 in Carolina in Week 2), the Cardinals are the closest any team has come to beating the Panthers in Charlotte. Don't put too much stock in that regular season game. Carolina is 8-0 at home and 3-0 in divisional games overall. Those records will remain unblemished come Saturday night.
Panthers 28 Cardinals 17
(6) Philadelphia Eagles at (1) New York Giants
Forget rematches. Every time these teams meet it's a rematch. It's also usually a grudge match, and sometimes, like Sunday's divisional showdown, a rubber match. The teams split two meetings this year, with each winning on the other's home field. This will be the second time in three years that they clash in a rubber match for the right to move on (the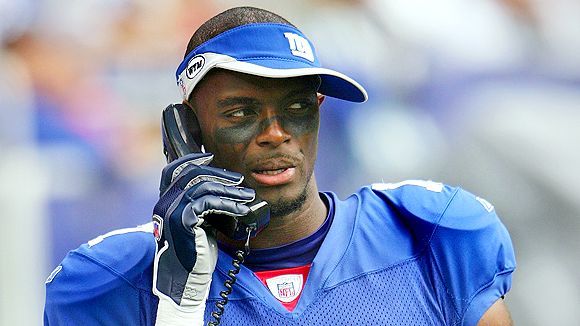 Eagles beat the Giants in a 2006 wild-card game, 23-20).
The Eagles are drawing comparisons to the Giants of a year ago, and the similarities are there. Like last year's Giants, the Eagles were written off amid mediocrity and turmoil only to receive new life in Week 17 and parlay it into a road win in the the wild-card round. And like the Giants were forced to do in Dallas, Philly will travel into the house of the NFC's top seed in a game it's being given little chance to win. The G-Men historically proved that going on the road with house money is a dangerous proposition for an opponent that may have more talent but also more expectation. It's even more dangerous when it's a divisional matchup and the teams know each other so well that the game can very well hinge on state of mind.
Regardless of what you read, the champs aren't anywhere close to at peace with their present situation. They killed teams en route an 11-1 start. Then their hammer, Brandon Jacobs, became hobbled and their big play weapon, Plaxico Burress, shot himself and was dismissed from the team. Yet they are still expected and favored to repeat as Super Bowl champions.
On the other hand you have the Eagles, who came within a single stitch of having not just their season, but an entire decade torn apart at the seams. After turning the ball over four times against the Ravens and getting benched, Donovan McNabb was ready to sever his longstanding contentious relationship with the city of Philadelphia, and they in turn were preparing for the final breakup. It still hasn't come. Now, in a notoriously pessimistic city that is nursing a World Series title, the skies are sunny and only good can come from what was a lost football season.
Success in January requires a union of good karma and favorable matchups. The Eagles have the karma and they also have the matchups. Brian Westbrook is a notorious Giant-killer. Since 2006, the teams have played seven times and New York has won four. In the six games Westbrook participated in he averaged 164 total yards and found the end zone seven times. It comes down to ball security for Philly's versatile back. When Westbrook didn't turn the ball over the Eagles were 3-1 and when he lost a fumble they were 0-2. Every time he touches the ball it's a possible mismatch for the Giants defense.
The last time the Eagles played the Giants in Week 14 Westbrook ran wild, totaling 203 total yards and two touchdowns. The final score read 20-14 but the game wasn't that close. A blocked field goal at the end of the half that should have given the Eagles a 13-0 lead turned into a touchdown return for the Giants and a 10-point swing. Philly held New York to 88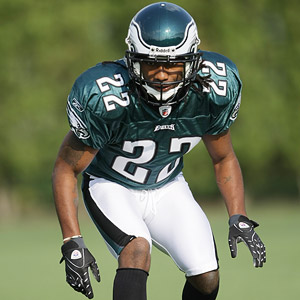 yards on the ground and frustrated Eli Manning, who was just 13-for-27 with 123 yards.
It's no coincidence that Burress was absent from that game. One of Manning's greatest strengths has always been his ability to convert long third downs in the face of a fierce pass rush. He's excellent at taking quick and calm three or four step drops with the heat coming and unloading the ball. Naturally it helped to have one of the tallest and most physical receivers in the game hauling in passes on the other end in single coverage. Since Eli no longer has that threat at his disposal it's incumbent on the Giants to establish their running game. The Eagles front seven proved in December against New York and again last week in Minnesota that they are up to the task of stopping the run.
With no Plax to worry about, Jim Johnson won't hesitate to bring lots of pressure from many different looks and angles. This game will come down to Manning vs. the Eagles secondary. Time and again throughout his career Eli has made a habit of tossing up a duck when he feels the heat. He did just that in the Super Bowl against the Patriots, except somehow the ball, along with history, slipped through the hands of Asante Samuel. It's fair to say Samuel has some unfinished business with Manning. That vendetta will contribute to Philly taking down the champs.
Eagles 20 Giants 17
Wild-Card Picks: 4-0