With exactly one week before the MLB Trade Deadline, Roy Halladay — the biggest prize available — remains a Blue Jay, and general manager J.P. Ricciardi indicated Tuesday the club is unlikely to deal the ace.
Naturally, that statement can be chalked up as GM jockeying, and Ricciardi is one of the best in the business when it comes to that.  When he first made it known that he would be open to hearing Halladay offers back on July 7, two of the first phone calls he received were from Theo Epstein of the Red Sox and Brian Cashman of the Yankees.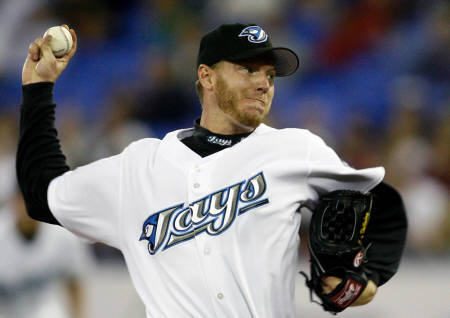 The one thing Toronto would like to avoid is dealing Doc to an AL East foe, because 1) it would further alter the balance of power in baseball's most competitive division, and 2) Halladay is the one guy available who would be an absolute game-changer in the never-ending Sox-Yanks arms race.
However, any smart GM knows that if he wants to max out the value of a star player whose departure is imminent, the talks must first go through Boston and New York.  In this case, Halladay has one year left on his contract, and as opposed to the past, said he does not want to sign a contract extension.  Which means Ricciardi essentially has three windows in which to deal him for some significant parts: before the Trade Deadline, in the offseason, before the 2010 Trade Deadline.
The chances of Halladay landing in Beantown or the Big Apple are slim, considering the prices would likely be too steep for either club — probably Clay Buchholz and Daniel Bard from the Sox or Joba Chamberlain and Phil Hughes from the Yanks — to bite on.  But a bidding/prospect war is exactly what Ricciardi wants, and any fantasy owners with Halladay should want the same.  Why?
Because there's another team in the Northeast Corridor that has the pieces to acquire Halladay, and as opposed to Boston and New York, really really needs his services.  That would be the defending champion Philadelphia Phillies.
Relying on a rotation that includes Cole Hamels (struggling), Jamie Moyer (ancient) and Joe Blanton (serviceable at best), the Phils can't expect to mount a serious title defense come October without doing something significant to their rotation, particularly given the imploding act that has been Brad Lidge this year.  The one bright spot on their staff has been 26-year-old rookie left-hander, J.A. Happ.  Happ is big (6-6), throws in the mid 90s and is 7-0 with a 2.68 ERA in 23 games (11 starts) this season.
If the Phillies can get Toronto to accept a package of Happ and a few other top prospects (outfielders Michael Taylor and Dominic Brown have been discussed), Halladay's fantasy value will go through the roof.
Think about it for a minute.  Doc has spent his entire career pitching in the trenches of the AL East, the majority of which he's done in the era of the unbalanced schedule.  Of his 273 career starts, 68 (or 25 percent) have come against the Red Sox and Yankees.  He's hurled 20 complete games from 2007-09, most in the bigs, and possesses a career ERA of 3.46.
Now, project those numbers to a league without the DH and a division with the Marlins and Nationals instead of the Red Sox and Yankees.  Yikes.
Everyone saw what CC Sabathia did when he made the move to the NL in the second half of 2008 (11-2, 1.65 ERA, seven complete games in 17 starts).  Well, Halladay is better than Sabathia, so fantasy owners can do the math.
While Halladay talks have dominated the airwaves and water coolers for the better part of three weeks, just as I was writing this piece, a deal of comparable proportions actually got done.  The Cardinals sent three players to the A's in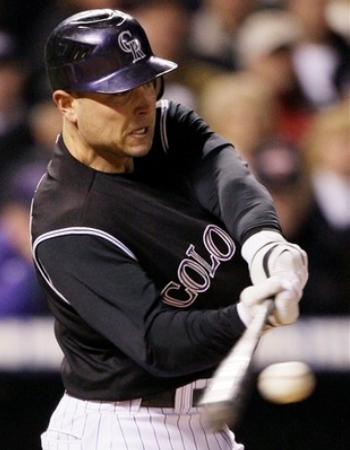 exchange for outfielder Matt Holliday.
This is a major move for St. Louis, as the Cardinals look to bolster their lineup for a run at a second World Series in four years.  But it's just as big for fantasy owners with Holliday, who was never right in the American League in the middle of an extremely soft Oakland lineup.  But if he was ever settling into a groove, it was just recently, as he's hit .344 with a .986 OPS this month.  Additionally, he came out of the All-Star break swinging a fiery stick, cranking three homers and knocking in 11 runs over the last eight games, easily his most prolific stretch this season.
So not only is a scorching Holliday headed back to the familiarity of the National League, but he's leaving a lineup where he protected the likes of Kurt Suzuki and Scott Hairston, and slipping into a batting order where he'll likely hit between Albert Pujols and Ryan Ludwick, the most fearsome slugger in the game and one of the hottest hitters over the last month.
For all intents and purposes, Holliday was a fantasy bust for the first three months of the 2009 season.  Those days appear to be over, as he's shown signs of life lately and is now primed for a monstrous stretch run with a contender.
Owners with the bopper should be licking their chops, and if they happen to also employ one Roy Halladay, there just might be a second "Holliday" coming within the next week.