Torre All Class in the "Citi"
Bill O'Reilly was standing next to third base as the Mets were taking batting practice before Thursday's game vs. the Dodgers at Citi Field.
The real "no spin zone", however, was a few paces away over in the visitors dugout, where manager Joe Torre was engaging a group of reporters — a handful of whom he knew well from his days managing the Yankees up in the Bronx.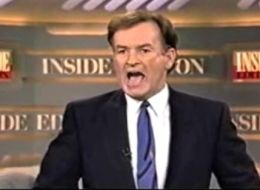 Torre touched on a variety of team topics, from Orlando Hudson's struggles — Torre dropped him to seventh in the lineup for the first time all season and he responded with a three-run double in the first — to the roster flexibility he's afforded by having such a talented nucleus.
When asked why Matt Kemp has spent a lot of time recently in the eight hole, he returned the question to the reporter, asking him who he would put there (Kemp is 24-for-45 with seven RBIs and seven runs in that spot).  He wasn't being condescending; Joe Torre is as straight of a shooter as there is in a profession characterized by hedging and line-feeding.  He was genuinely inquiring whether anyone had a better idea of what to do with a lineup full of dynamic, young and mostly interchangeable parts.  The old "if ain't broke don't — the bleep — fix it" adage, if you will.  Other managers would have verbalized some form of that saying as a response; Torre merely implied it.  Everyone had a laugh.
It's that kind of candor and sincerity that endeared Torre to the city of New York, its fans, and the media.  When the man speaks to you, you don't feel like he's doing his civic duty in a public setting.  You could, for all intents and purposes, be having the talk over a couple of beers.  That's the wonder of Torre, the reason why most associated with him say there's no one else like him in the game.
The topic of the press conference shifted to the Yankees and Torre spoke about how lucky he was to inherit a Yankees club that would have been playoff-bound regardless of whether he was there.  He talked about how that team and experience shaped him — he never made the playoffs in 18 seasons as a player and got to one October in a combined 15 years managing the Mets, Braves and Cardinals.
For a man who had played his first nine seasons with Hank Aaron, made nine All-Star teams, won an MVP in 1971 and arrived in New York in 1996 having spent more than 30 years in the game without so much as sniffing the promised land, to win four titles in a five-year span was as humbling as it was exhilarating.
Torre, for so long one of the game's class acts, was suddenly its most celebrated winner.  Yet once the 2000s hit and the Yanks started flaming out annually in October, people (read: his Boss) started to question whether he was really that elite manager who presided over the glory years or merely a guy who managed some egos and tapped his right arm to summon his otherworldly closer.
That, Torre said, was when he began to sniff the beginning of the end.
"When we got to the World Series and lost in '01 and '03, and that was a failure…" Torre said before tailing off.  He said that was when he knew expectations had become unrealistic, and without saying it, implied that gratitude should be doled out for making the playoffs 12 straight years, capturing six pennants and winning four rings.
As for the "managing egos isn't managing" argument that his few detractors use as ammo against him, try spending a day in a clubhouse, let alone 162.  Then stick a bunch of bona fide superstars and a handful of Hall of Famers in there and put it in the biggest sports market in the world.  That's the world he inhabited for 12 years, the world so many dismissed as solely a privilege to be a part of without acknowledging what a taxing and perpetual balancing act it was.
When the conversation returned to the Dodgers and Manny's return, Torre spoke about how lucky they were to have a guy like Manny to stick in the middle of the lineup.  He's right, but given what's gone down in the last two months, the truth is Manny is equally lucky to have Torre as his manager.
Case in point: When Manny was ejected Tuesday for flipping his batting gloves in the direction of home-plate umpire
John Hirschbeck, he said afterward, "[Hirschbeck] made a mistake.  I think it's a ball.  I just threw my pad and walked to the field. I was coming out in the fifth anyway, so no big deal."
The reality was only Manny — of course — knew he was coming out of the game regardless in the fifth.  When that tidbit was presented to Torre, he deadpanned, "He told me that, too.  I wasn't aware of that."  That's a player's manager, a term that should never be thrown around loosely or be underappreciated.  That's Joe Torre.
Throughout the 30-minute gathering with the media Thursday, there were constant roars from planes taking off from nearby LaGuardia Airport and passing just above the ballpark, rendering Torre inaudible for 15 or so seconds every two minutes.  Apparently, he had just concluded filming some sort of promotional spot on the field before the press conference, and upon seeing a Mets executive walking by the dugout, shouted over everyone: "Thanks a lot for having the planes diverted around the stadium, it really helped."
"And just as I was finishing, the rehearsal of the national anthem was perfect!"
Everyone had a laugh.