Mike Breen summed up Game 6 of the Eastern Conference finals aptly:
"Murphy's Law in effect," Breen told Jeff Van Gundy and the rest of the national ESPN audience late in the fourth quarter of Miami's 98-79 thumping of the Celtics. "Even Murphy had it better."
And so it was on a forgettable Thursday night at the Garden, Breen's line trumped only by LeBron James' 45-15-5 – a cold-blooded and emphatic response to the question of whether the King's season would be dealt its death blow by the hallowed parquet for the third time in five years.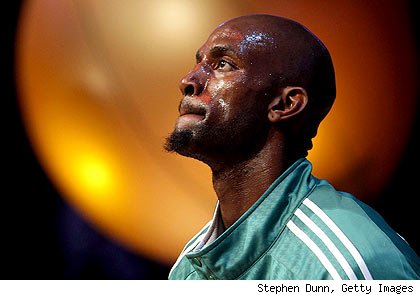 The way the Celtics came out – Paul Pierce clanking shots, Kevin Garnett getting clapped by Shane Battier, Rajon Rondo slinging passes into the first row – it sure looked like they thought the building itself was going to win them the game, and all they had to do was hop on for the ride, like a bunch of kids on a Tilt-A-Whirl.
Instead, it was James doing the tilting and whirling, sticking shot after shot directly in the eye of Celtic after Celtic. When it was all over, he was only in Wilt Chamberlain's company. There's a reason the guy has won three MVPs, folks. It's because, on occasion, he does things like what we all, um, witnessed last night.
I've said it before, but it must be reiterated. This is the Heat. This is who they are. The moment you let your guard down or allow a scintilla of (the wrong kind of) hubris to enter the equation, they will coldly and unequivocally steamroll you. The Celtics know this better than anyone, but then again, these are the Celtics – prideful, stubborn and bearing a massive chip on their collective shoulder that practically screams their love for doing things the hardest possible way.
Naturally, there's a silver lining, like there always is with this Green machine and the caveats that attempt to do justice to its head-scratching idiosyncrasies.
On the same night James found a way to will himself to a higher place, the Celtics laid a big ole dinosaur egg. Part of that is a happy coincidence, because let's be real, even a 41-point eruption from Pierce or a tour-de-force Rondo was unlikely to thwart LeBron from exiting onto Causeway Street victorious. It was just one of those nights.
Long before the Garden snapped out of its coma and the final buzzer sounded, I couldn't help but think of a game with eerie parallels to the one that was still unfolding in front of me.
In the 2010 Finals, the Celtics roared back from a 2-1 series deficit to the Lakers by winning Games 4 and 5 at home, sending them to the West Coast with two shots to close out the title. The way they came out in Game 6, it seemed like they believed the Lakers were going to serve them their rings on a silver platter and plan the parade for them.
To date, that remains the biggest no-show of the Big Three era, but boy, did Thursday night give it a run for its money.
Everyone knows what happened in Game 7 that year. Despite playing without an injured Kendrick Perkins, the Celtics threw the first haymaker. And the second. And third. Their lead was 13 in the third quarter before it all came apart in the fourth. Twenty-one Lakers free throws, a game-tying three from Derek Fisher and a back-breaking dagger from Ron Artest. Just like that, Banner No. 18 vanished into the rafters at Staples Center.
The Celtics are a grinding, forward-thinking team. When they say they don't think about Heat-in-5 from last year, they mean it. But don't believe for a second that when Game 7 in Miami reaches meet-your-maker time, the Celtics won't have something extra to draw on, something uniquely painful yet invigorating.
What happened that night in L.A. is the greatest regret they have, but when the Heat are making their charge in the fourth quarter, it will represent their greatest weapon. For two years, that game has haunted them and driven them. It's part of the reason they are even here to begin with. And by late Saturday night, it will become the reason why they were able to outlast the mighty Miami Heat.