Allen's exit ends Big Three era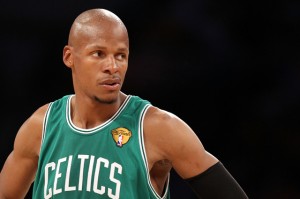 In the days after the Celtics ran out of gas down the stretch of Game 7 and succumbed to the Heat, it was tempting to get in the mix and offer some final thoughts following, what appeared to be, the final curtain of the new Big Three era.
A team born out of a bounce of a ping-pong ball on May 22, 2007, that had produced so many stirring memories was headed into a haze of uncertainty.
Of the original three-party, only Paul Pierce was under contract. And while it was a no-brainer that Kevin Garnett would either hang em up or return in Green, it was hard not to prepare for the former. Anyone who watched the man play from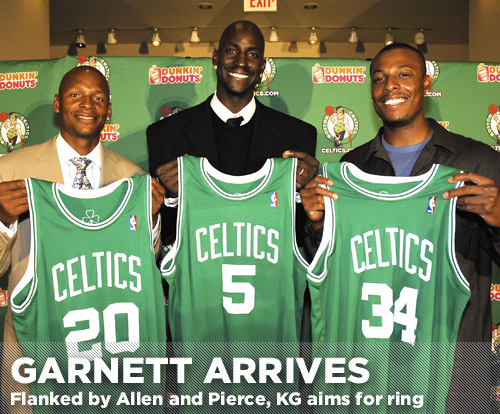 late-February on could not possibly escape the thought that he was in the throes of firing every remaining bullet in his chamber in one final blaze of glory.
But when Garnett, the glue, decided he was not ready for the next banner ceremony at the Garden to be the one raising his No. 5 into the rafters, Year 6 of the Three-Year Window appeared to be all but a formality. Just like Ray Allen's arrival in 2007 had spurred Garnett to join Boston, so too would KG's decision to return give Allen all the incentive necessary to re-up so he and his teammates could regroup, avenge the loss to Miami and make another charge at Banner No. 18.
The Celtics have done a lot of winning over the last five years. Few will dispute that they likely would have done even more had circumstances not dictated otherwise. But given the trajectory of the franchise from the end of the original Big Three era – beginning with Len Bias and Reggie Lewis, giving way to M.L. Carr, Rick Pitino and 18-game losing streaks – to the dawn of the new one, Celtics fans were desperate for something positive to cling to.
The team bonded in Rome, where Ubuntu was hatched, before the 2007-08 season, and it didn't take long for Boston to become a basketball city once again. Tom Brady may own the town, but he plays 25 miles to the south and is only there 8-10 times per year.
For five years, the Celtics were tangible, relatable and omnipresent. They squabbled, but more like a family than highly-paid professional athletes. They were fiercely loyal to their coach, who instilled in them a will to play as much for each other as they did for the fans.
Allen is as meticulous of an athlete (or person, for that matter) as you will ever see. Every move he makes, on the court and off, is calculated. So for him to turn his back on his roots and teammates and irrevocably alter his legacy at this stage in his career by joining the enemy means, well, there was evidently a lot going on that we were not aware of.
The gist of it has now been circulated: Allen was hurt by the way Danny Ainge conducted his business, trying to trade him on multiple occasions, including informing him that he had been shipped to Memphis for O.J. Mayo at the trade deadline only to have the deal fall through at the last minute. He was angered at losing his starting job to Avery Bradley while grinding through what was undeniably his most physically taxing season as a Celtic. And he grew tired of dealing with the mercurial Rajon Rondo on a day-to-day basis.
The reasons were there, and plentiful, for Allen's discontent to grow into spite.
However, even as Celtics fans try to extract the knife he just plunged into their backs, it's nonetheless difficult not to wonder if things could have gone differently. In this case, the simple answer is no.
If it was fixable, you can rest assured the trio of Doc, Garnett and Pierce would have found a way. For all Rivers made about the team's splendid chemistry last season, that sentiment was obviously not shared by Allen. For Ray, the Ubuntu probably died when Ainge tried to swap him for a newer model. But a case can be made that it goes back even further, back to the trade of Kendrick Perkins.
When Ainge stunned everyone by dealing Perkins in February 2011, he made it clear he was running the Celtics as an enterprise. In Ainge's eyes, Perkins had become a dated asset, no matter that the spirit of the team had been founded on and revolved around its belligerent unity. Not only did the loss of Perkins rob the Celtics of their burly 7-footer who also happened to serve as Rondo's stabilizing force, it jolted them all back to the reality of basketball as a business.
Less than 18 months later, the business of basketball was brought full circle by Allen. Except this time it was personal, because it's impossible to have it both ways. Ubuntu and the business of basketball were always on a collision course, and the first domino was Perkins.
So instead of one last Last Hurrah for the Big Three, it's suddenly the end of days, when Jesus became Judas. The retooled Celtics will once again be in the hunt next year. But the days of the new Big Three are over.
Heady times they were.