Window closed: A bow on the Big Three era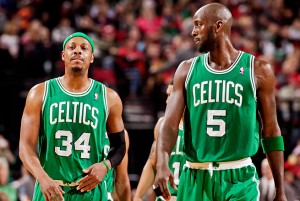 I love Brooklyn. I have lived in the borough since 2006. Never entertained the thought of moving. So when it was announced on Draft night that Paul Pierce and Kevin Garnett had been traded to the Nets, once the initial shock wore off, I quickly started to talk myself into the deal. The championship window of the Celtics had closed once Rajon Rondo tore his ACL in January, and while I nonetheless wanted nothing more than to go down with the ship and see Pierce and KG retire as Celtics, this was clearly the next-best thing.
The pair would be staying together and coming to my backyard, not to mention joining a team flush with talent but lacking in the mental-toughness department. It was the perfect union for all parties: The Nets were getting an injection of some sorely-needed championship pedigree, Pierce and Garnett were getting a chance to assume the reduced roles that would give them their most legitimate shot at another title, and the sizable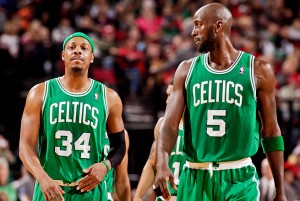 Boston-transplant contingent in Brooklyn was receiving the opportunity to give two all-time Celtics greats a proper sendoff into retirement.
I spent the last few weeks borderline giddy about the impending arrival of Pierce and Garnett. Laying out odds on where each would live, hang, eat, first be spotted. Inquiring about Nets season tickets. Projecting the rotation come October. Wondering how many times Garnett would make Brook Lopez cry in training camp. The works. Bottom line is I convinced myself I was all-in on this Big Three-Brooklyn meld. And I remain so.
However.
Seeing them introduced on Thursday was tough. Actually, tough doesn't do it justice. It was excruciating.
The thing about fan-athlete relationships is they are one-sided affairs. The fan pours heart and soul into the team, comes to know and love the athletes, welcomes them into their home on a nightly basis. When they win, it's bliss. When they lose, it's sorrow. It's always personal.
Not so much for the athletes. Therein lies the built-in safety mechanism for the fan, as it's that emotional detachment and all-business approach of the athlete that makes a departure/breakup easier for the fan to handle. If you've heard one press conference of a star player leaving the team and city that drafted him, talking in platitudes about the great experience and the fans and "At the end of the day, this is a business" and yadda yadda, you've heard them all.
But this team was different. This pair is different. Garnett is the most fiercely loyal athlete I've ever known. The guy was Atlas in Minnesota. He'll be the first to tell you he doesn't do change well, because, well, he doesn't do change. Only when implored to summon an iota of selfishness has he ever acquiesced to change. And that has happened twice. The first was six years ago when he was convinced to come to Boston. And the second was a few weeks ago, when Pierce talked him into Brooklyn.
As for Pierce, his loyalty to and love for Boston and the Celtic tradition may never be matched. Sure, he grew up an LA kid, but he became Boston, through and through. He lived nearly half his life there. He almost died there. He felt the weight of history, the pull to not just win a championship, but multiple. He understood what it meant to join the Russells, Havliceks, Birds as lifelong Celtics. It was a massive burden, all of it combined, but he embraced it unconditionally.
That's why Thursday was excruciating. Pierce wasn't on the podium thanking Boston and lauding the fans in the past tense. He wasn't moving on to the next chapter. Instead he was stuck in transit, mired in a strange basketball and personal purgatory. He spoke in the first-person plural about Boston, left sentences unfinished, talked about shedding tears and even analogized it all to breaking up with his first love. He hasn't gotten over the Celtics, and he probably never will. That weight of history is too heavy.
Back when the Celtics won the title in 2008, I wrote about how more than anything Banner No. 17 was a connector of generations. For all the Celtics fans like me – whose earliest basketball memories were of a stricken Bird hobbling up and down the court, and subsequent memories were years on top of years on top of years of losing – the tradition that we were grandfathered into was one only understood in the abstract. Then we finally realized it in '08.
Despite the so-called "three-year window" turning into four, five, six years of championship swagger, the legacy of this Celtics era will ultimately go down as one of unfinished business; of what could've and should've been.
Garnett's season-ending knee injury in 2009 derailed what was shaping up to be a cakewalk to a repeat. In the next Finals, Kendrick Perkins tore his ACL in Game 6 and a combination of dead legs and referee home-cooking for the Lakers in the fourth quarter of Game 7 cost the Celtics the 2010 title. A peaking Rondo was KO'd by Dwyane Wade in the '11 playoffs and the Celtics had only 42 championship-caliber minutes in them against Miami in Game 7 of the Eastern Finals the following year. There's no Celtics fan who hasn't done the math and come up with a number of at least two, likely three or four. Count Pierce at the top of that list.
So seeing him on that podium flanked by Nets logos, it was pretty clear he was experiencing vivid flashbacks to each and every one of those missed chances. The difference this time was the finality of it all. The quest for Banner 18 and beyond proved to be maddeningly elusive. But it was always ongoing. Seemed destined to be until he decided to hang up his laces. But basketball is indeed a business. Thus the Big Three era officially ended on that podium, and with it those lost opportunities were suddenly no longer marked by an ellipsis, but a period.
It was impossible not to sense Pierce coming to grips with all of it in real time. That's what made it excruciating. But it was also a fitting and poignant end.
He reminded us all that this relationship was no one-sided affair.