There's a reason the Celtics and Heat played on Opening Night, then again nine days later, and finally in Game No. 80. As soon as LeBron James packed up his talents and bounced out of Cleveland, the league knew this day was coming. So it charged up the hype-o-meter early, maxed out the hoopla and then let the teams go their separate ways in preparation for an inevitable May showdown.
Well, it is finally upon us. The Heat are favorites. No surprise there. The Heat Index is boiling.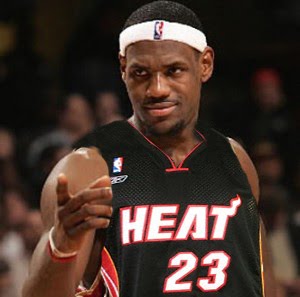 As for the Celtics, they're merely stewing. For a team that has manned the door of the Eastern Conference for three years and counting, this will be the third time in the last four series that they're being expected to kindly arrange their things in preparation for an early summer. James – either boldly or coldly – referring to them as "lunch" is more than likely tacked on a bulletin board somewhere in their Waltham, Mass., practice facility.
On one hand, there's no reason LeBron shouldn't be oozing confidence. Miami finished the regular season on a 12-2 run, waxed Boston in the teams' final meeting to secure the No. 2 seed, and chewed up the young and feisty 76ers – aka "breakfast" – in five games in Round 1.
Because of that, a good deal has been made recently of how Miami has started to "get it," which is part of the reason most Las Vegas sportsbooks list the Celtics as nearly 2-to-1 underdogs in the series. What, exactly, that means has this scribe mystified, though.
The Heat's blueprint for each of its 58 wins in the regular season was uniform: Ride the two – or sometimes three – best players on the court to victory, with a smattering of supplemental support. Miami often led big and continued to pour it on, as evidenced by their NBA-best plus-7.5 point differential.
Not one time did the Heat win a game in which it was losing or tied with less than 10 seconds remaining. Furthermore, James, Dwyane Wade and Chris Bosh were a combined 1-for-18 from the field in those scenarios. The one make came courtesy of James on Nov. 20 at Memphis, when he tied the game on a breakaway dunk with 5.5 seconds remaining. Rudy Gay then proceeded to un-tie it moments later.
But wait, proponents of the Heat "getting it" must be shouting, things have changed in the playoffs! Actually, they haven't.
Not once in Miami's four wins over Philly were they tied or trailing in the last three minutes of the game, let alone the final 10 seconds. Yet in their sole defeat, they watched a six-point lead with 1:35 remaining evaporate, culminating with James getting swatted by Elton Brand on an attempted game-tying layup with three ticks left. (For those scoring at home, make that 1-for-19.)
Success in the playoffs – when talent gaps are reduced and games are tight – hinges on two things: Late-game coaching and execution. Miami coach Erik Spoelstra has proven incapable of drawing up crunch-time plays for his team (heck, he can't even settle on which of his two stars should have the ball). And the game of improv that James and Wade have engaged in in such scenarios has failed to cover up the deficiencies of their coach.
Their late-game follies have simply underscored the importance of knowing what you want to do at the end of a game, and adding the necessary on-the-spot wrinkles to be successful on a consistent basis. It's no secret Paul Pierce is going to have the ball in his hands at the top of the key, either isolating a weaker defender or waiting for a high pick from Kevin Garnett, on any Boston possession inside of two minutes. Or that Ray Allen will be run off a series of screens. Or a combination of the two. Great teams have their bread and butter, and dare the opposition to out-execute them.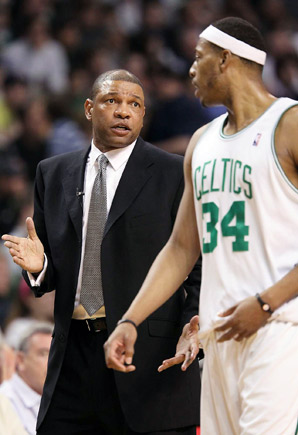 The Celtics have proven beyond any reasonable doubt throughout their run that they are the gold standard in terms of late-game execution, while Doc Rivers has established himself as the maestro of head honchos when it comes to putting his team in a position to prevail.
In Games 1 and 2 against the Knicks in the first round, the Celtics were outplayed for the vast majority of both contests but pulled them out on the strength of their discipline and execution in the waning seconds of each game.
Naturally, they can't play like zombies for 46 minutes against the Heat and expect to bail themselves out late, because they will have already been run out of the building. For Miami to win the series, they will have to do just that: Run the Celtics ragged.
However, that means they must find an answer for a rejuvenated Rajon Rondo, who can run faster with the ball than anyone on the court. If Mike Bibby struggles to the degree that LeBron is forced to take it upon himself to hold Rondo – a plausible scenario – the game of whack-a-Celtic will officially commence, as Miami's defense of Pierce will be reassigned to James Jones.
The Celtics have a lot going for them – a distinct advantage at point guard and a deeper and more experienced bench, first and foremost – but the difference in this series boils down to the systemic difference between the teams: The Heat are built to blow teams out and the Celtics are built to win close games.
LeBron may be anticipating lunch, but for the third time in four years, the main course of his postseason will be Boston in Round 2.
Celtics in 6.